Contact Us
Our considerable experience and skill base, coupled with our dedication to quality has given us a loyal customer base who can expect to receive products manufactured to an exacting standard, delivered on-time and with first class communication during the project life cycle.

Brightera would therefore welcome the opportunity to discuss any requirements you may have and offer you our most competitive price and service.






CNC and more,
all tailored for you

Brightera Engineering Ltd
Unit 2, Beverley Trading Estate,
Morden, Surrey. SM4 4LU
Telephone : 020 8337 5161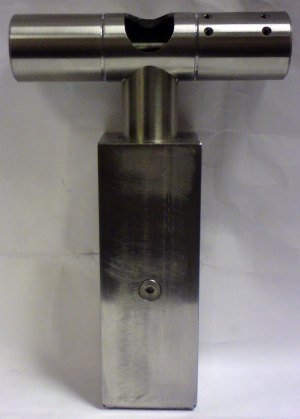 Frequently Asked Questions
What is CNC Turning?
CNC stands for Computer Numerical Control, referring to machining processes driven by computer programmes running a sequence of operations over precise intervals and dimensions. Our CNC precision machinery produces components from raw material bar stock (generally round, but also hexagonal, square, tube etc) machined down on computerised lathes with various cutting, drilling, forming and other tools. The custom parts produced are not limited to long or cylindrical designs, as the multi-axis equipment is capable of machining a wide range of intricate and complex shapes, as well as more straightforward and simple parts.

Do you have a minimum run quantity?
We don't have a minimum run as such, but as our CNC machinery is designed for volume manufacture, the cost of production varies with the batch size. The cost of set-up in particular will have a greater affect on price for a small run than when spread across a larger batch, so a part made in a run of 500 will be significantly cheaper than one run in a batch of 100, with 1000 cheaper again and so on. We can happily produce small quantities if needed, but these will not have the same price benefits as larger runs. Please contact us for a competitive quote.

What materials can you machine?
Our most commonly used materials include brass, stainless or mild steel, copper, aluminium, etc. We also machine in other materials and alloys like silver steel, titanium, magnesium bronze, beryllium copper or any bar stock machinable in turning processes. We often turn products using customer supplied materials where suitable.

What is the largest sized part you can make?
Please contact us to discuss size options.

What is the smallest size you can make?
Please contact us to discuss size options.
Fine detail and intricate designs are a special feature of our CNC equipment.

Do you handle plating, heat treatment or other finishing operations?
We frequently make part designs that involve further processing such as plating and heat treatment, for which we have our own reliable and preferred subcontractors. Typical processes include electro-plating in finishes like bright nickel, silver, gold or to custom specifications, electro-less plating and heat treatment for case hardening etc. Other finishing operations can also be sourced, depending on the job requirements.

How quickly can you prepare a quote for us?
We aim to have all quotes returned within two working days, often sooner, though this may take a little longer if we need to wait on replies from suppliers on specialised materials, tooling etc. Depending on the complexity of the part, we may take extra time to examine a number of methods of production to select the most effective, and also may get in touch with you to clarify technical details or to discuss possible changes that may improve the function or manufacture of your design.

Please contact us for an obligation free quote.

What sort of quality assurance can Brightera Engineering Ltd provide for repetition engineering?
Brightera Engineering Ltd precision parts are made with the highest quality using only the best materials for your job. We ensure great service with on-time delivery and flexibility to allow for urgent requests. The company's CNC engineering equipment provides consistent results for product conformance, backed up by high precision inspection equipment and programmes.

You can be assured that the finished product is of utmost quality.